Fun in Other Places
---
Ouray, Colorado, July 2012 - Camped at 4J+1+1 Campground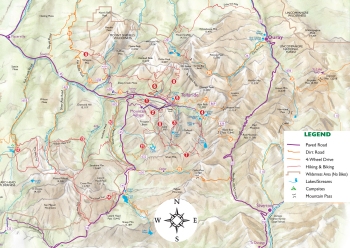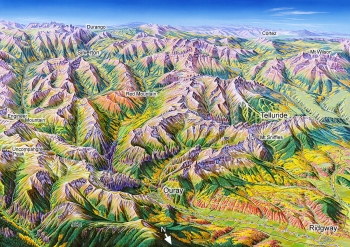 Click here for LARGE trail map
Dirt Bike Trail Ride over High Mountain Passes with Russ. When we arrived at the campground, we were invited to share a dinner with a family from Phoenix, Arizona. Rick, Abigal, Alessa and Mom.
The first day of riding we rode loops from Ouray to Silverton via Corkscrew Gulch, Hurricane and Cinnamon Passes.
(I forgot to bring my camera so Russ took all the pictures - coming)
The second day from Ouray to Telluride via Black Bear (Bridal Veil and Ingram Falls) and Imogene Passes. Imogene was riden in the wet until croosing the summit. The notorious section on Black Bear gave me some trouble, and I had to walk my bike down about 50 feet. I got passed by a young KTM 525 rider standing on his pegs while I was struggling for control (sigh - next year maybe).
The third day (easy) we rode county roads and Jeep trails to Crystal Lake and Ophir Pass to check out Columbines. I sent many pictures along the way with my cell phone camera in order to send to Becky as we traveled. We headed down the highway to Silverthorn (saw the Durango to Silverthorn Train) and took the jeep road via Hurrican Pass back to Ouray
On the Suzuki DRZ400S's speedo, You can see the overal 'A' miles of the three day trek, 202.2 miles. The 'B' miles of 86.4 is the distance traveled on the last day.